Pictorial Evidence
24th July 2009, mc
1)

Ancient Greece: Archaic period (c.750-c.490 BC)



2)

Ancient Greece: Classical period (c.490-323 BC)



Delphi – Treasury of the Athenians, built to commemorate the Greek victory over the Persians circa 480BC. As a result of these treasuries, through the protection of the Amphictyonic League, Delphi came to function as the de-facto Central Bank of Ancient Greece. It was the abuse of these treasuries by Philip of Macedon and the later sacking of the Treasuries, first by the Celts, and later by Sulla, the Roman Dictator, that led to the eclipse of Greek civilization and the eventual growth of Rome.
Daniel the Prophet was was told,
Then said he, Knowest thou wherefore I come unto thee? and now will I return to fight with the prince of Persia: and when I am gone forth, lo, the prince of Grecia shall come. (Daniel 10:19-20)
And now will I show thee the truth. Behold, there shall stand up yet three kings in Persia; and the fourth shall be far richer than they all: and by his strength through his riches he shall stir up all against the realm of Grecia(Yavan). And a mighty king shall stand up, that shall rule with great dominion, and do according to his will. And when he shall stand up, his kingdom shall be broken, and shall be divided toward the four winds of heaven; and not to his posterity, nor according to his dominion which he ruled: for his kingdom shall be plucked up, even for others beside those. (Daniel 11:2-4)
Athens – the Parthenon on the Acropolis. Built of marble, dedicated to Athena. Built in 447-432BC in the Golden Age of Pericles.
3)

Ancient Greece: Hellenistic period (323-146 BC)



Izmir (Smyrna) –Kadifekale "the velvet castle" - the impressive ruins of a castle and its walls, built by Lysimachus, a "successor" (diadochus) of Alexander the Great, Lysimachus later a king (306 BC) in Thrace and Asia Minor.
Smyrna. Kadifekale (literally "the velvet castle" in Turkish)
4)

The Apostles journeys



Perga
Now when Paul and his company loosed from Paphos, they came to Perga in Pamphylia: and John departing from them returned to Jerusalem. But when they departed from Perga, they came to Antioch in Pisidia, and went into the synagogue on the sabbath day, and sat down. (Acts 13:13-14)
Perga
And after they had passed throughout Pisidia, they came to Pamphylia. And when they had preached the word in Perga, they went down into Attalia: (Acts 14:24-25)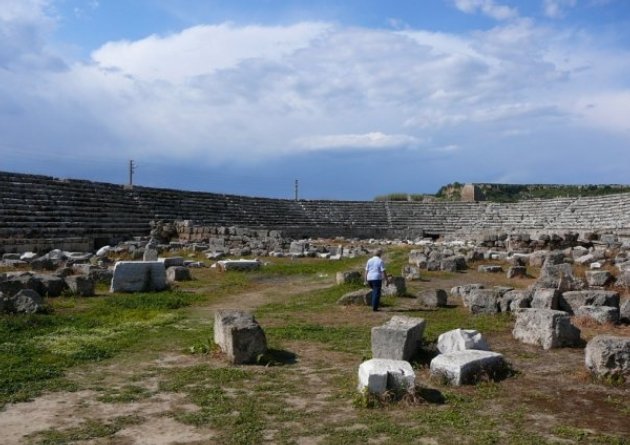 Perga. Athletic Stadium
Derbe. The Apostle Paul fled here from Lystra after being stoned.
Howbeit, as the disciples stood round about him, he rose up, and came into the city: and the next day he departed with Barnabas to Derbe. (Acts 14:20)
Ephesus was the centre of the worship of Artemis also known as Diana.
Due to varying and contradictory ledgends we cannot be too sure about what was belived, but it appears Diana was thought to be the daughter of Zeus. She was a Hellenic goddess of fertility, childbirth, forests, hills and the hunt.
For a certain man named Demetrius, a silversmith, which made silver shrines for Diana, brought no small gain unto the craftsmen; Whom he called together with the workmen of like occupation, and said, "Sirs, ye know that by this craft we have our wealth. Moreover you see and hear, that not alone at Ephesus, but almost throughout all Asia, this Paul hath persuaded and turned away much people, saying that they be no gods, which are made with hands: So that not only this our craft is in danger to be set at nought; but also that the temple of the great goddess Diana should be despised, and her magnificence should be destroyed, whom all Asia and the world worships". And when they heard these sayings, they were full of wrath, and cried out, saying, "Great is Diana of the Ephesians". (Acts 19:24-28)
Ephesus. The Prytaneion 3rd Century BC, where religious ceremonies, official receptions and banquets were held. The sacred flame symbolizing the heart of Ephesus was kept constantly alight in the Prytaneion.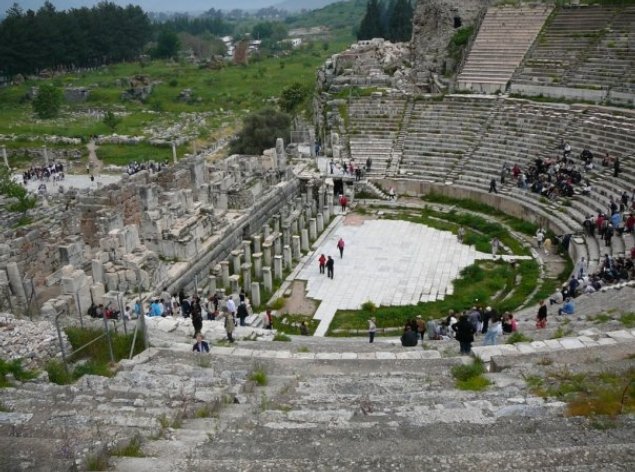 Ephesus – The Theatre.
"And the whole city was filled with confusion: and having caught Gaius and Aristarchus, men of Macedonia, Paul's companions in travel, they rushed with one accord into the theatre." (Acts 19:29)
Left Ephesus – street of Curetes, looking towards Library of Celsus. There were 500,000 people in Ephesus at time of Paul the Apostle.
Right Ephesus – Library of Celsus. Ephesus was a university city like Athens. It abounded with orators and philosophers like Tyrannus (Acts 19v9). Library was built in 117 A.D. It was a monumental tomb for Gaius Julius Celsus Polemaeanus, the governor of the province of Asia; from his son Galius Julius Aquila.
Myra Paul passed by here.
And when we had launched from thence, we sailed under Cyprus, because the winds were contrary. And when we had sailed over the sea of Cilicia and Pamphylia, we came to Myra, a city of Lycia. (Acts 27:4-5)
Colossae
The salutation by the hand of me Paul. Remember my bonds. Grace be with you. Amen. (Col 4:18)
5)

The Spread of the Gospel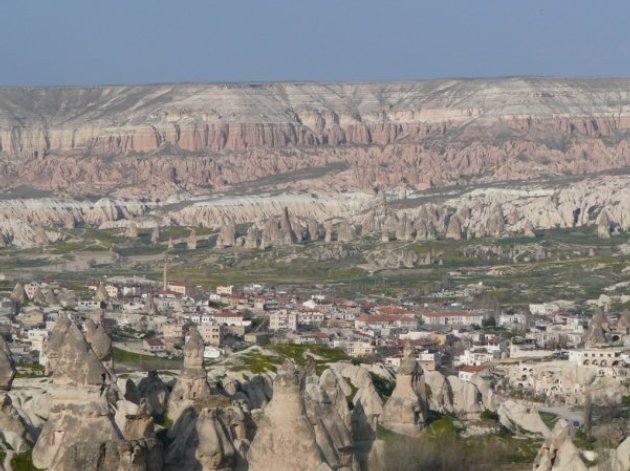 Cappadocia meaning "a place for fine horses" is mentioned in the New Testament:
"Peter, an apostle of Jesus Christ, To the pilgrims of the Dispersion in Pontus, Galatia, Cappadocia, Asia, and Bithynia." (1 Peter 1:1)
Laodicea. Paul writes,
For I would that ye knew what great conflict I have for you, and for them at Laodicea, and for as many as have not seen my face in the flesh; (Col 2:1)
Laodicea ruins of the ancient city.
Epaphras, who is one of you, a servant of Christ, saluteth you, always labouring fervently for you in prayers, that ye may stand perfect and complete in all the will of God. For I bear him record, that he hath a great zeal for you, and them that are in Laodicea, and them in Hierapolis. (Col 4:12-13)
Hierapolis. The Theatre. Paul mentiones the people here in Colossians 4.
Ephesus – Domitian Square. Domitian Temple gave this area its name. It was the first temple to be built in the name of an emperor (81 - 96A.D.) and located next to the Domitian Square in the background.
Ephesus – the Flying NIKE. Nike = "Victory". This relief of the flying Nike in the Domitian Square is thought to also be a part of the Hercules gate.
Unto..Ephesus write..I know thy works, and thy labour, and thy patience, and how thou canst not bear them which are evil: and thou hast tried them which say they are apostles, and are not, and hast found them liars: And hast borne, and hast patience, and for my name's sake hast laboured, and hast not fainted. Nevertheless I have somewhat against thee, because thou hast left thy first love. Remember therefore from whence thou art fallen, and repent, and do the first works; or else I will come unto thee quickly, and will remove thy candlestick out of his place, except thou repent. But this thou hast, that thou hatest the deeds of the Nicolaitans, which I also hate. (Rev 2:1-6)
Izmir (Smyrna). The clock tower
And unto the angel of the congregation in Smyrna write; These things saith the first and the last, which was dead, and is alive; I know thy works, and tribulation, and poverty, (but thou art rich) and I know the blasphemy of them which say they are Jews, and are not, but are the synagogue of the adversary. (Rev 2:8-9)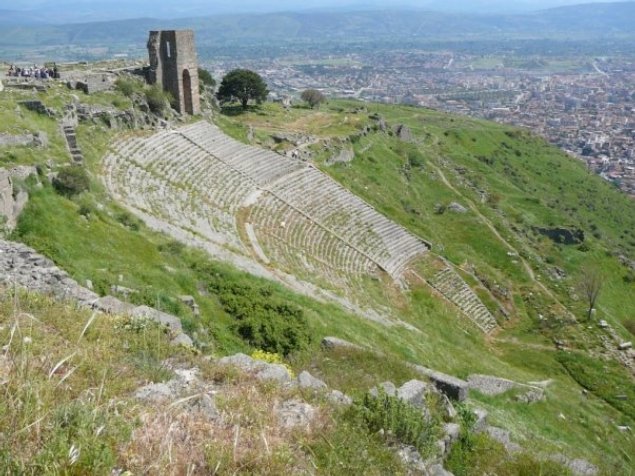 Pergamos, Pergamon. The very steep theatre. Built in 2nd Century BC by Eumenes II. It seated 10,000 people.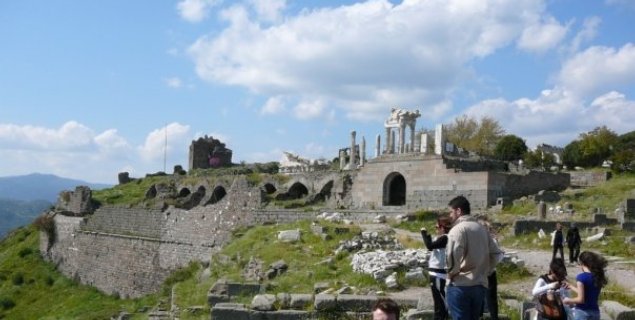 Pergamos. Temple to Trajan (ruled from 98AD to his death in 117AD) in background.
Pergamos. Temple to the Deified Emperor Trajan
Pergamos. Temple to the Deified Emperor Trajan
The city became a Roman city after 133BC when Attalus III (138-133 BC), without an heir, bequeathed Pergamon to Rome, to prevent civil war.
I know thy works, and where thou dwell, even where the Adversarys's seat is: and thou hold fast my name, and hast not denied my faith, even in those days wherein Antipas was my faithful martyr, who was slain among you, where the Adversary dwells. But I have a few things against thee, because thou hast there them that hold the doctrine of Balaam, who taught Balac to cast a stumblingblock before the children of Israel, to eat things sacrificed unto idols, and to commit fornication. So have thou also them that hold the doctrine of the Nicolaitans, which thing I hate. (Rev 2:13-15)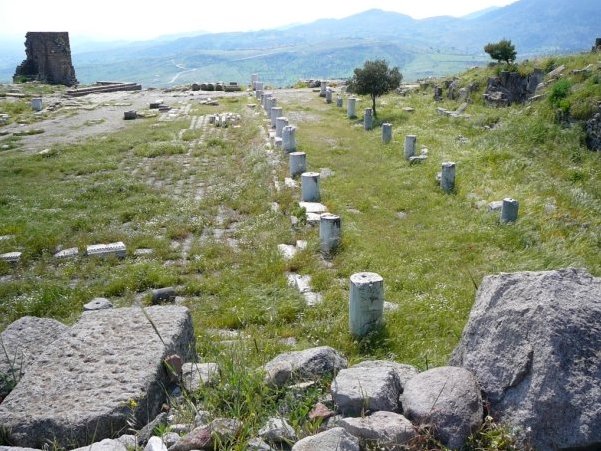 Pergamos, features a temple complex modelled on the Acropolis. Remains of Temple of Athena.
Pergamon Asklepieion. Looking up at Pergamos acropolis from the the Asklepieion.
Pergamos (Bergama) – the Asklepieion. Two serpents used as symbols of healing; since serpents shed their skin to renew itself – a symbol of a new life.
World: Serpent = healing, new life.
Bible: Serpent = sin and death.
Thyatira.
And on the sabbath we went out of the city by a river side, where prayer was wont to be made; and we sat down, and spake unto the women which resorted there. And a certain woman named Lydia, a seller of purple, of the city of Thyatira, which worshipped God, heard us: whose heart the Lord opened, that she attended unto the things which were spoken of Paul. And when she was baptized, and her household, she besought us, saying, If ye have judged me to be faithful to the Lord, come into my house, and abide there. And she constrained us. (Acts 16:13-15)
Thyatira ruins in the modern city
And unto.. Thyatira write; These things says the Son of God,.. I know thy works, and charity, and service, and faith, and thy patience, and thy works; and the last to be more than the first. Notwithstanding I have a few things against thee, because thou sufferest that woman Jezebel, which calleth herself a prophetess, to teach and to seduce my servants to commit fornication, and to eat things sacrificed unto idols. And I gave her space to repent of her fornication; and she repented not. Behold, I will cast her..and them that commit adultery with her into great tribulation, except they repent of their deeds. And I will kill her children with death; and all the congregations shall know that I am he which searcheth the minds and hearts: and I will give unto every one of you according to your works. But unto you I say, and unto the rest in Thyatira, as many as have not this doctrine, and which have not known the depths of the adversary, as they speak; I will put upon you none other burden. But that which ye have already hold fast till I come. (Revelations 2:18-25)
And unto the angel of the congregation in Sardis write; These things saith he that hath the seven Spirits of God, and the seven stars; I know thy works, that thou hast a name that thou livest, and art dead. Be watchful, and strengthen the things which remain, that are ready to die: for I have not found thy works perfect before God. (Rev 3:1-2)
Sardis. Synagogue.
Philadelphia. Remains of a church built in 600AD.
And to the angel of the congregation in Philadelphia write; These things saith he that is holy, he that is true, he that hath the key of David, he that openeth, and no man shutteth; and shutteth, and no man openeth; I know thy works: behold, I have set before thee an open door, and no man can shut it: for thou hast a little strength, and hast kept my word, and hast not denied my name. (Rev 3:7-8)
February 23, 532 Emperor Justinian I decided to build Hagia Sophia. Built in a classical Romansque style the Building was emblematic of the power of the Roman Church. As was its history of rebuilding through earthquake and fire, attack by Latin Catholics of the 4th Crusade and the takeover in 1453 when it was conquered by the Ottoman Turks. The building's conversion into a mosque was gradual, many of the mosaics were covered with plaster over time until the 17th century where travellers note still saw Byzantine images. Minarets were added in 1577 and it became a Islamic social centre in 1740. In 1847 and 1849 the large discs were hung from the columns, completing the transfomation.
And the woman fled into the wilderness, where she has a place prepared of God, that they should feed her there a thousand two hundred and sixty days. (Rev 12:6)
6)

Modern World Fulfilment of Prophecy

This truly is the blessed generation Daniel spoke about as the last 100 years have fulfilled prophecy.
British fight the Ottomans at Gallipoli
Looking over Anzac Cove, Gallipoli.
Anzac Cove, Gallipoli.
Anzac Cove cemetery on the beach. The "Sphinx" in the background.
Anzac Cove. Ataturk's memorial set up in 1934 at Ari Burnu Cemetery. It reads
"Those heroes that shed their blood and lost their lives. You are now lying in the soil of a friendly country. Therefore rest in peace. There is no difference between the Johnnies And the Mehmets to us where they lie side by side Here in this country of ours. You, the mothers, Who sent their sons from far away countries Wipe away your tears, Your sons are now lying in our bosom And are in peace After having lost their lives on this land they have Become our sons as well."
Though the Ottoman Empire won this battle, they eventually lost all of what was then known as Palestine, Jerusalem and Damascus. Ataturk rose up and led the forces that ended the Ottoman's last remaining power, and made the nation of modern Turkey.
It was written that the empire the the Euphrates was to dry up
And the sixth angel poured out his vial upon the great river Euphrates; and the water thereof was dried up, that the way of the kings of the east might be prepared. (Revelation 16:12)
The drying up began slowly over time from 1683 (see here) and was finally finished with Ataturk, and thus Ataturk fought on the same side as the ANZAC's in the end, despite the fact he fought for the Ottomans at Gallipoli!
Turkish Trenches at Lone Pine.
Turkish shallow trench excavations at Lone Pine.
ANZAC graves at Lone Pine.
The trenches at Chunuk Bair.
Gallipoli was a failure, but the subsequent battle against the Ottoman Turks for Palestine wasn't.
Nobody at the start of WW1 could have thought it would have ended with the British controlling Jerusalem. It seemed they never had it as an aim initially. They failed to attain their aim of helping Russia at Gallipoli. They accidentally acquired Jerusalem instead. Thanks in large part to Commonwealth and even Jewish forces particularly in the Jordan valley. On the the day Britain took control of Jerusalem, a New Zealander wearing an Australian uniform climbed the citadel of David and flew the Zionist flag given to him by the Jews in Cairo (Crombie, 1998). This action implies he knew he had not fought for the Commonwealth, but for Zion. The British command took it down.
Gallipoli was a failure as Ottoman Turkey held the peninsular and Constantinople was never in danger. But Turkey lost Palestine, Jerusalem and their empire dried up.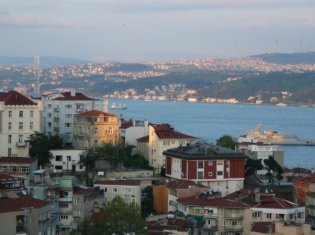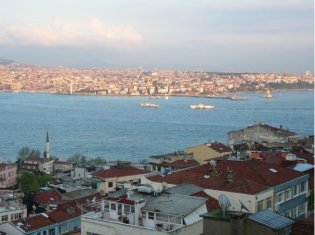 Constantinople was lost to Orthodox Europe in 1453 when it was captured by the Ottoman Turks. This photo is looking across to the Golden Horn the old Byzantine part of the city. The photo is looking from Asia Minor across the Bosphus to Europe. Constantinople was once the centre of the Eastern Roman Empire, but the palace was on the European side. Britain and the Allies were not to take Constantinople in 1915,but it yet may have a role. It is the last foothold of Islam in Europe and the Orthodox church has always considered they are the rightful heir of the old Byzantine capital. It seems likely that Russia, now the stronghold of the Eastern Orthodox, will desire as they have in the past to aquire the Golden Horn.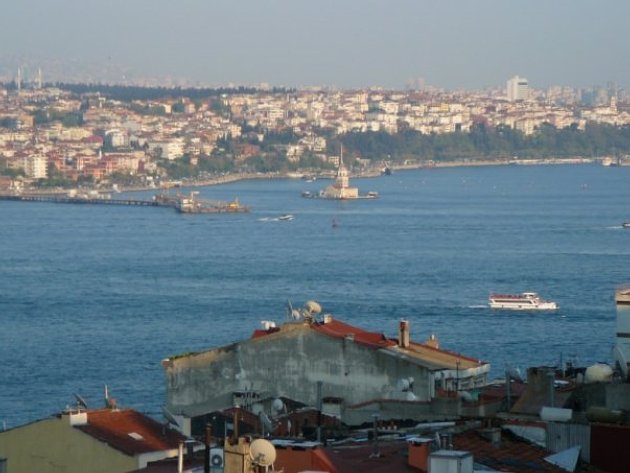 View of the Golden Horn.
For more Sacrifice at Gallipoli