O.T. Spirit
20th July 2009, mgh
8)

Yahweh's Spirit and the Prophets

Yahweh used his spirit to move the prophets to record and write for the teaching and admonition of the nation of Israel and for future generations' enlightenment.
Yet many years didst thou forbear them, and testifiedst against them by thy spirit (ruach) in thy prophets: yet would they not give ear: therefore gavest thou them into the hand of the people of the lands. (Nehemiah9:30)
But there is a spirit (ruach) in man: and the inspiration (spirit) of the Almighty giveth them understanding. (Job 32: 8)
Job is playing on the meaning of 2 Hebrew words as the Hebrew word for 'inspiration' is related to ruach. Humans have been given the spirit of life, but it is the spirit of the Creator that comes upon the prophets that makes them understand the principles that lead to eternal life.
Diagram of the applications of ruach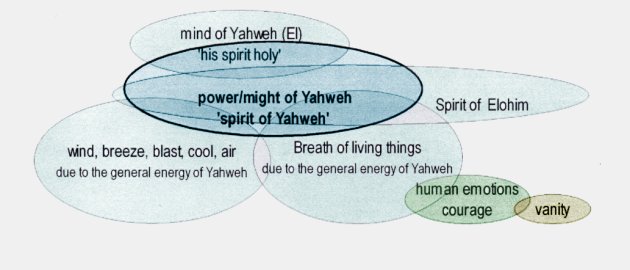 The New Testament writers also support this.
All scripture is given by inspiration of God (Theo/pneustos), and is profitable for doctrine, for reproof, for correction, for instruction in righteousness:...That the man of God may be perfect, throughly furnished unto all good works. (Timothy 3:16-17)
We have also a more sure word of prophecy; whereunto ye do well that ye take heed, as unto a light that shines in a dark place, until the day dawn, and the day star arise in your hearts: Knowing this first, that no prophecy of the scripture is of any private interpretation. For the prophecy came not in old time by the will of man: but holy men of God spake as they were moved by the Spirit holy (2Peter 1: 19-21)
That ye may be mindful of the words which were spoken before by the holy prophets, and of the commandment of us the apostles of the Lord and Saviour:(2Peter 3:2)
The power of Yahweh moved a very few chosen men to write to ensure that his purpose with the earth would not be forgotten. Inspired writings reproved, rebuked, instructed and still today give wisdom and understanding to those who seek to learn of Yahweh and his plan.
For more Spirit in the New Testament