Prophecy strengthens Faith
12th February 2010, mgh
1)

How do we begin to understand Prophecy?
Most people are daunted by the word 'prophecy' and don't know where to begin or how to understand prophecy and even what actually is prophetic. However the Bible gives clear clues to the understanding of prophecy. Paul, writing to the Romans, states that the Word of God is the source of knowledge and knowledge will then lead to faith.
For whosoever shall call upon the name of the Lord shall be saved. How then shall they call on him in whom they have not believed? and how shall they believe in him of whom they have not heard? and how shall they hear without a preacher? And how shall they preach, except they be sent? as it is written, How beautiful are the feet of them that preach the gospel of peace, and bring glad tidings of good things!
But they have not all obeyed the gospel. For Isaiah saith, Lord, who hath believed our report? So then faith comes by hearing, and hearing by the word of God. (Romans 10:13-17)
Amos assures us that the plan of God has been revealed through the prophets.
Surely the Lord GOD will do nothing, but he revealeth his secret unto his servants the prophets.(Amos 3:7)
In these two quotations we have two very important points. Knowledge of God's plan is found in the written Word, through the writings of the prophets, which are found in the Old Testament.
2)

A Nation as Witness to God's Existence

The Bible is very much a history of the Jewish nation, as the founding fathers of the nation were faithful and worshipped Yahweh, the Creator, in the midst of idolatrous nations. Abraham had been given specific promises (about 2000BC) related to his seed.
And I will make my covenant between me and thee, and will multiply thee exceedingly. And Abram fell on his face: and God talked with him, saying, As for me, behold, my covenant is with thee, and thou shalt be a father of many nations.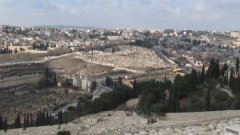 Neither shall thy name any more be called Abram, but thy name shall be Abraham; for a father of many nations have I made thee. And I will make thee exceeding fruitful, and I will make nations of thee, and kings shall come out of thee.
And I will establish my covenant between me and thee and thy seed after thee in their generations for an everlasting covenant, to be a God unto thee, and to thy seed after thee. And I will give unto thee, and to thy seed after thee, the land wherein thou art a stranger, all the land of Canaan, for an everlasting possession; and I will be their God. (Genesis 17: 2-9)
The Jewish people are descended from Abraham and despite their failure to be obedient to God's law they were to remain a sign to all people, both Jew and Gentile. The Jews are Yahweh's witnesses, a sign to all nations.
But what does it mean to be witnesses?
The Jews' destiny was clearly prophesied, so that those who read God's Word can know that Yahweh has a plan that must be accomplished and the fate of the Jews has verified Yahweh's existence. This gives a foundation for belief and faith. We need such a sign to give us assurance and confidence. Isaiah explains the significance of Israel as a witness to us all.
Let all the nations be gathered together....: who among them can declare this, and shew us former things? let them bring forth their witnesses, that they may be justified: or let them hear, and say, It is truth.
Ye are my witnesses, saith the LORD, and my servant whom I have chosen: that ye may know and believe me, and understand that I am he: before me there was no God formed, neither shall there be after me. I, even I, am the LORD; and beside me there is no saviour.
I have declared, and have saved, and I have shewed, when there was no strange god among you: therefore ye are my witnesses, saith the LORD, that I am God.(Isaiah 43: 9-12)
How can Israel be the witness to God's Existence?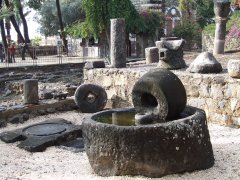 As stated above, it is through prophecies related to the nation of Israel. Very early in Israel's history. Moses (about 1250BC) told the people that their attitude had not reflected the qualities and obedience that their God required of his chosen nation. The Lord had made a promise to their founding father, Abraham, and that promise would not fail, but the nation would be punished when they were disobedient to the laws that they had been given. They would be destroyed as a nation, scattered among the heathen (the other nations/Gentiles) and a remnant would survive. However they would not be completely destroyed or forsaken, because Yahweh had made a promise to their forefathers and this promise, a covenant, would not be broken.
I call heaven and earth to witness against you this day, that ye shall soon utterly perish from off the land whereunto ye go over Jordan to possess it; ye shall not prolong your days upon it, but shall utterly be destroyed.
And the LORD shall scatter you among the nations, and ye shall be left few in number among the heathen, whither the LORD shall lead you.And there ye shall serve gods, the work of men's hands, wood and stone, which neither see, nor hear, nor eat, nor smell. But if from thence thou shalt seek the LORD thy God, thou shalt find him , if thou seek him with all thy heart and with all thy soul.
When thou art in tribulation, and all these things are come upon thee, even in the latter days, if thou turn to the LORD thy God, and shalt be obedient unto his voice; (For the LORD thy God is a merciful God;) he will not forsake thee, neither destroy thee, nor forget the covenant of thy fathers which he sware unto them.(Deuteronomy 4: 26-31)
The important thing that we note here is the promise, a promise that would not be broken. Unlike our world leaders and politicians, who make promises that they don't keep, Yahweh will keep his promise to Jews and Gentiles.
In this we must trust. It is part of our faith. We can see the evidence in the unfolding of Jewish history over thousands of years.
Again, early in their nationhood, Moses (about 1250BC) explains that despite their dispersal among the nations the promise of survival was given. After their dispersion and persecution among the nations they would be gathered out of all nations.
And it shall come to pass, when all these things are come upon thee, the blessing and the curse, which I have set before thee, and thou shalt call them to mind among all the nations, whither the LORD thy God hath driven thee, And shalt return unto the LORD thy God, and shalt obey his voice according to all that I command thee this day, thou and thy children, with all thine heart, and with all thy soul; That then the LORD thy God will turn thy captivity, and have compassion upon thee, and will return and gather thee from all the nations, whither the LORD thy God hath scattered thee.(Deuteronomy 30: 1-3)
3)

The Living Witnesses

The following is a brief summary of Israel's past showing the fulfilment of the prophecies in Deuteronomy given in about 1250BC.
2000BC Abraham was promised that his descendents would become a nation.
1250BC Moses gives the prophecy related to their future.
1000BC Under king David the nation reaches its greatest heights.
722BC The Assyrians invade and destroy the capital, Samaria, of what was the northern state of Israel and the people are slain or dispersed.
587BC Jerusalem is destroyed by the Babylonians, many are slain or dispersed and many were taken captive to Babylon, where they remained for 70 years.
70AD Romans destroy Jerusalem and scatter the people.
History has shown that the Jews were once a strong nation, but during successive invasions they were scattered, taken captive or slain. The Bible declared that this would happen if they were unfaithful to their God. This was prophecy. It happened as foretold. We have the evidence. This is the importannce of prophecy which tells us what will happen. We can see what has happened and this should then give us confidence that other unfulfilled prophecies will be fulfilled. This then can be a foundation for faith building. We ask, did it happen? This is the test for Prophecy.
Weakened but not Completely Destroyed
In the 6th century BC, a remnant were allowed to returnfrom Babylon to their homeland and rebuild their temple and city of Jerusalem. Again at this time, the prophets of Israel such as Jeremiah and Ezekiel again prophesy that the nation will ultimately be dispersed among the nations for their disobedience and faithlessness. Ezekiel warned the nation: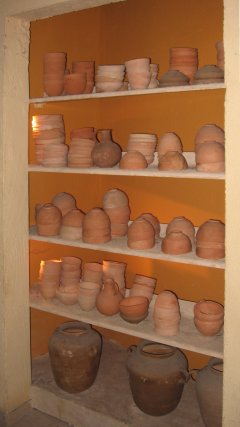 In all your dwellingplaces the cities shall be laid waste, and the high places shall be desolate; that your altars may be laid waste and made desolate, and your idols may be broken and cease, and your images may be cut down, and your works may be abolished. And the slain shall fall in the midst of you, and ye shall know that I am the LORD.
Yet will I leave a remnant, that ye may have some that shall escape the sword among the nations, when ye shall be scattered through the countries.
And they that escape of you shall remember me among the nations whither they shall be carried captives, because I am broken with their whorish heart, which hath departed from me, and with their eyes, which go a whoring after their idols: and they shall lothe themselves for the evils which they have committed in all their abominations.
And they shall know that I am the LORD, and that I have not said in vain that I would do this evil unto them.(Ezekiel 6: 6-10)
Hosea prophesies of the return of the children of Israel to their God in the latter days.
For the children of Israel shall abide many days without a king, and without a prince, and without a sacrifice, and without an image, and without an ephod, and without teraphim:
Afterward shall the children of Israel return, and seek the LORD their God, and David their king; and shall fear the LORD and his goodness in the latter days. (Hosea 3:4-5)
The words of Ezekiel and Hosea are echoed many times in the writings of the prophets. The following are just a few places where they are to be found.
Hosea 9:17; Amos 8:12; Zechariah 7:7-14; Jeremiah 4:27, 9:11, 15-16; 16:9-18, 24:9-10; Ezekiel 6:8-14, 14:21-23, 21:23-27, 22:15, 33:27-29.
4)

Restoration of Israel

As early as the time of Moses, it was prophesied that Israel would be gathered from all the nations to which God had scattered them. They would return to the land that God had promised their forefathers as a possession.
That then the LORD thy God will turn thy captivity, and have compassion upon thee, and will return and gather thee from all the nations, whither the LORD thy God hath scattered thee.
If any of thine be driven out unto the outmost parts of heaven, from thence will the LORD thy God gather thee, and from thence will he fetch thee:
And the LORD thy God will bring thee into the land which thy fathers possessed, and thou shalt possess it; and he will do thee good, and multiply thee above thy fathers. (Deuteronomy 30: 3-5)
They would restore and rebuild the old waste lands, which had been devastated by generations of invaders.
And they that shall be of thee shall build the old waste places: thou shalt raise up the foundations of many generations; and thou shalt be called, The repairer of the breach, The restorer of paths to dwell in. (Isaiah 58:12)
In mercy and compassion the nation ,which would be revived, would obtain mercy and forgiveness for their sins, as the Lord will fulfil the promises that were made to Abraham and his seed and to all nations, the Gentiles, who are to blessed with Abraham's seed. Micah wrote;
Who is a God like unto thee, that pardoneth iniquity, and passeth by the transgression of the remnant of his heritage? he retaineth not his anger for ever, because he delighteth in mercy.
He will turn again, he will have compassion upon us; he will subdue our iniquities; and thou wilt cast all their sins into the depths of the sea.
Thou wilt perform the truth to Jacob, and the mercy to Abraham, which thou hast sworn unto our fathers from the days of old. (Micah 7: 18-20)
Nations from the ancient world, such as India and China, have huge populations. The Jews have been subjected to tremendous persecution and in comparison to India and China there remains only a small remnant of Jews, estimated at approximating 15-16 million. Some are in Israel and the rest are still scattered throughout the nations of the world. The remnant shall yet return to their homeland,
The remnant shall return, even the remnant of Jacob, unto the mighty God. For though thy people Israel be as the sand of the sea, yet a remnant of them shall return: the consumption decreed shall overflow with righteousness.(Isaiah 10:21-22)
The Jews have suffered humiliation and persecution, of which the Holocaust is only a part, but as a witness to us all they will be saved and return to Israel.
But Israel shall be saved in the LORD with an everlasting salvation: ye shall not be ashamed nor confounded world without end.(Isaiah 45: 17)
and,
Behold, the days come, saith the LORD, that I will raise unto David a righteous Branch, and a King shall reign and prosper, and shall execute judgment and justice in the earth. In his days Judah shall be saved, and Israel shall dwell safely: and this is his name whereby he shall be called, THE LORD OUR RIGHTEOUSNESS.
Therefore, behold, the days come, saith the LORD, that they shall no more say, The LORD liveth, which brought up the children of Israel out of the land of Egypt; But, The LORD liveth, which brought up and which led the seed of the house of Israel out of the north country, and from all countries whither I had driven them; and they shall dwell in their own land.(Jeremiah 23: 5-8)
5)

Modern Israel Witnesses today to God's Existence

What did the prophets say would happen after the Jews had been scattered among the nations?

A remnant would be saved.
A remnant would return to their homeland.

In the closing years of the nineteenth century with the Zionist movement and persecution in Russia, some Jews filtered back into the land that was at the time called Palestine. But it was not until WW2 that they were driven out of Europe by Hitler. Six million were killed and a remnant managed to flee as refugees. In 1948 the United Nations voted for partition to allow a homeland in Israel for the Jews.
We can now witness a continuing fulfilment of prophecy. You might argue that the New Testament changed all that and the Old Testament has little relevance to today. You might consider that Christianity changed the way we should consider the Old Testament.
New Testament supports the Old Testament Prophets
Yeshua frequently warned the Jewish leaders of his day that they needed to know the writings of Moses, the Psalms and the Prophets. Does this still apply to us today. Look at what James says. He is quoting from Amos 9: 11-12 to prove that Israel would again be rebuilt.
Simeon hath declared how God at the first did visit the Gentiles, to take out of them a people for his name. And to this agree the words of the prophets; as it is written,
After this I will return, and will build again the tabernacle of David, which is fallen down; and I will build again the ruins thereof, and I will set it up: That the residue of men might seek after the Lord, and all the Gentiles, upon whom my name is called, saith the Lord, who doeth all these things.(Acts 15: 14-17)
Luke gives the time setting for when Jerusalem would once again belong to the Jewish people.
And they (the Jews) shall fall by the edge of the sword, and shall be led away captive into all nations: and Jerusalem shall be trodden down of the Gentiles, until the times of the Gentiles be fulfilled.(Luke 21:24)
In 1967 Israel was attacked by the surrounding Arab nations in their attempt to destroy Israel. In an amazing battle which lasted six days, the small nation defeated the overwhelming numbers of her Arab enemies and gained control of their ancient city of Jerusalem. Jerusalem had been subjected to the control of other nations for almost 2000 years. Over 40 years later we can see continuing Arab antagonism and hostility towards Israel and the emergence again of anti-Semitism. We are witnessing that promise of the regathering of the Jews into their traditional homeland, which was prophesied would occur after the dispersal of the Jewish people into all nations, that occurred after the Romans destroyed Jerusalem in AD70.
Yeshua also made a prophecy and promise related to the disciples, about the "regeneration". We are seeing the "regeneration" or rebirth of Israel. In our privileged position and the wealth of knowledge available to us we can look back at history and see those witnesses, the Jews, through all their adversities fulfilling the prophecies given thousands of years ago that we might have hope in the future of a Kingdom and peace on earth.
And Jesus said unto them (the disciples), Verily I say unto you, That ye which have followed me, in the regeneration (rebirth/restoration) when the Son of man shall sit in the throne of his glory, ye also shall sit upon twelve thrones, judging the twelve tribes of Israel.(Matthew 19:28)
Yeshua saw a future, a regeneration, for the nation of Israel. In the past fifty years we have seen that beginning of the rebirth of the nation. There are other prophecies yet to be fulfilled, but we can have faith that they will be and that ultimately there will be peace on earth and salvation for the faithful. The letter to the Hebrews assures us that Yahweh's promises will not fail.
Wherein God, willing more abundantly to shew unto the heirs of promise the immutability of his counsel, confirmed it by an oath: That by two immutable things, in which it was impossible for God to lie, we might have a strong consolation, who have fled for refuge to lay hold upon the hope set before us:
Which hope we have as an anchor of the soul, both sure and stedfast, and which entereth into that within the veil; Whither the forerunner is for us entered, even Jesus, made an high priest for ever after the order of Melchisedec.(Hebrews 6: 17-20)
For more on Prophecy

Therefore judge nothing before the time, until the Lord come, who both will bring to light the hidden things of darkness, and will make manifest the counsels of the hearts: and then shall every man have praise of God. (1 Corinthians 4:5)
This may be one of the most misunderstood passages of the Bible. Paul is notorious for long sentences of connected thoughts, and this is part of a complex wide ranging thought which lasts 2 chapters, and includes what seems opposite advice:
But now I have written unto you not to keep company, if any man that is called a brother be a fornicator, or covetous, or an idolater, or a railer, or a drunkard, or an extortioner; with such an one no not to eat. For what have I to do to judge them also that are without? do not ye judge them that are within? But them that are without God judgeth. Therefore put away from among yourselves that wicked person. (1 Cor. 5:11-13)

We were asked what early documents establish that Rosh of Ezekiel 38 is Russia. The answer is in 2 parts, as we explain the trajectory from fulfilled prophecy in history to prophecy yet to be fulfilled.

The Revelation 12 Sign
There is much written about the sun, moon and planets aligning on in September 2017. We have many reasons for suspecting that 2017 will be a prophetically significant year, and the time of the Jewish feast of Sukkot could be more significant than any other time, but we need to understand the scripture before we consider the stars.

As I was thinking to write this article, having just read Psalm 46 as I do each year on that day, on January 25th a Bible was found untouched after a tornado hit Hattiesburg, Mississippi.