Prayer
26th November 2011, hej
6)

David And Solomon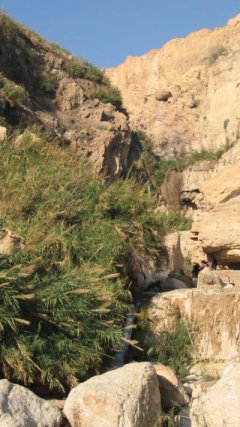 David was a man after Yahweh's own heart, and was a man of prayer. He left in the Psalms a personal prayer, but one for all his people.
<A Prayer of David.> Bow down thine ear, O LORD, hear me: for I am poor and needy. Preserve my soul; for I am holy: O thou my God, save thy servant that trusts in thee. Be merciful unto me, O Lord: for I cry unto thee daily. Rejoice the soul of thy servant: for unto thee, O Lord, do I lift up my soul. For thou, Lord, art good, and ready to forgive; and plenteous in mercy unto all them that call upon thee.
Give ear, O LORD, unto my prayer; and attend to the voice of my supplications. In the day of my trouble I will call upon thee: for thou wilt answer me. Among the gods there is none like unto thee, O Lord; neither are there any works like unto thy works. All nations whom thou hast made shall come and worship before thee, O Lord; and shall glorify thy name. For thou art great, and doest wondrous things: thou art God alone.
Teach me thy way, O LORD; I will walk in thy truth: unite my heart to fear thy name. I will praise thee, O Lord my God, with all my heart: and I will glorify thy name for evermore. For great is thy mercy toward me: and thou hast delivered my soul from the lowest hell. O God, the proud are risen against me, and the assemblies of violent men have sought after my soul; and have not set thee before them.
But thou, O Lord, art a God full of compassion, and gracious, longsuffering, and plenteous in mercy and truth. O turn unto me, and have mercy upon me; give thy strength unto thy servant, and save the son of thine handmaid. Shew me a token for good; that they which hate me may see it, and be ashamed: because thou, LORD, hast helped me, and comforted me. (Psalm 86:1-17 KJV)
David's prayer of praise after receiving the promises, like Hannah's, looks beyond to great things in the future. In the Hebrew, the record says David goes into the Tabernacle and 'dwells, sits' facing Yahweh Elohim. The Tabernacle includes no chair, so he knelt.
Who am I, O Lord GOD? and what is my house, that thou hast brought me hitherto? And this was yet a small thing in thy sight, O Lord GOD; but thou hast spoken also of thy servant's house for a great while to come. And is this the manner of man, O Lord GOD? And what can David say more unto thee? for thou, Lord GOD, know thy servant. For thy word's sake, and according to thine own heart, hast thou done all these great things, to make thy servant know them.
Wherefore thou art great, O LORD God: for there is none like thee, neither is there any God beside thee, according to all that we have heard with our ears. And what one nation in the earth is like thy people, even like Israel, whom God went to redeem for a people to himself, and to make him a name, and to do for you great things and terrible, for thy land, before thy people, which thou redeemed to thee from Egypt, from the nations and their gods? For thou hast confirmed to thyself thy people Israel to be a people unto thee for ever: and thou, LORD, art become their God.
And now, O LORD God, the word that thou hast spoken concerning thy servant, and concerning his house, establish it for ever, and do as thou hast said. And let thy name be magnified for ever, saying, The LORD of hosts is the God over Israel: and let the house of thy servant David be established before thee.
For thou, O LORD of hosts, God of Israel, hast revealed to thy servant, saying, I will build thee an house: therefore has thy servant found in his heart to pray this prayer unto thee. And now, O Lord GOD, thou art that God, and thy words be true, and thou hast promised this goodness unto thy servant: Therefore now let it please thee to bless the house of thy servant, that it may continue for ever before thee: for thou, O Lord GOD, hast spoken it: and with thy blessing let the house of thy servant be blessed for ever. (2Sam 7:18-29)
On the occasion where Solomon is made king, David praised Yahweh in a public prayer before those assembled.
Blessed be thou, LORD God of Israel our father, for ever and ever. Thine, O LORD, is the greatness, and the power, and the glory, and the victory, and the majesty: for all that is in the heaven and in the earth is thine; thine is the kingdom, O LORD, and thou art exalted as head above all.
Both riches and honour come of thee, and thou reignest over all; and in thine hand is power and might; and in thine hand it is to make great, and to give strength unto all.
Now therefore, our God, we thank thee, and praise thy glorious name.
But who am I, and what is my people, that we should be able to offer so willingly after this sort? for all things come of thee, and of thine own have we given thee. For we are strangers before thee, and sojourners, as were all our fathers: our days on the earth are as a shadow, and there is none abiding. O LORD our God, all this store that we have prepared to build thee an house for thine holy name cometh of thine hand, and is all thine own. I know also, my God, that thou triest the heart, and hast pleasure in uprightness.
As for me, in the uprightness of mine heart I have willingly offered all these things: and now have I seen with joy thy people, which are present here, to offer willingly unto thee. O LORD God of Abraham, Isaac, and of Israel, our fathers, keep this for ever in the imagination of the thoughts of the heart of thy people, and prepare their heart unto thee:
And give unto Solomon my son a perfect heart, to keep thy commandments, thy testimonies, and thy statutes, and to do all these things, and to build the palace, for the which I have made provision. (1Chronicles 29:10-20 KJV)
This prayer of David's is answered in the work of Solomon, who builds the Temple and at the dedication of the temple makes a prayer for all time, that still has power today.
LORD God of Israel, there is no God like thee, in heaven above, or on earth beneath, who keeps covenant and mercy with thy servants that walk before thee with all their heart: Who hast kept with thy servant David my father that thou promised him: thou spake also with thy mouth, and hast fulfilled it with thine hand, as it is this day.
Therefore now, LORD God of Israel, keep with thy servant David my father that thou promised him, saying, There shall not fail thee a man in my sight to sit on the throne of Israel; so that thy children take heed to their way, that they walk before me as thou hast walked before me. And now, O God of Israel, let thy word, I pray thee, be verified, which thou spakest unto thy servant David my father.
But will God indeed dwell on the earth? behold, the heaven and heaven of heavens cannot contain thee; how much less this house that I have builded? Yet have thou respect unto the prayer of thy servant, and to his supplication, O LORD my God, to hearken unto the cry and to the prayer, which thy servant prays before thee to day:
That thine eyes may be open toward this house night and day, even toward the place of which thou hast said, My name shall be there: that thou may hearken unto the prayer which thy servant shall make toward this place. And hearken thou to the supplication of thy servant, and of thy people Israel, when they shall pray toward this place: and hear thou in heaven thy dwelling place: and when thou hear, forgive.
If any man trespass against his neighbour, and an oath be laid upon him to cause him to swear, and the oath come before thine altar in this house: Then hear thou in heaven, and do, and judge thy servants, condemning the wicked, to bring his way upon his head; and justifying the righteous, to give him according to his righteousness.
When thy people Israel be smitten down before the enemy, because they have sinned against thee, and shall turn again to thee, and confess thy name, and pray, and make supplication unto thee in this house: Then hear thou in heaven, and forgive the sin of thy people Israel, and bring them again unto the land which thou gave unto their fathers.
When heaven is shut up, and there is no rain, because they have sinned against thee; if they pray toward this place, and confess thy name, and turn from their sin, when thou afflict them: Then hear thou in heaven, and forgive the sin of thy servants, and of thy people Israel, that thou teach them the good way wherein they should walk, and give rain upon thy land, which thou hast given to thy people for an inheritance.
If there be in the land famine, if there be pestilence, blasting, mildew, locust, or if there be caterpiller; if their enemy besiege them in the land of their cities; whatsoever plague, whatsoever sickness there be; What prayer and supplication soever be made by any man, or by all thy people Israel, which shall know every man the plague of his own heart, and spread forth his hands toward this house: Then hear thou in heaven thy dwelling place, and forgive, and do, and give to every man according to his ways, whose heart thou know; (for thou, even thou only, know the hearts of all the children of men;)
That they may fear thee all the days that they live in the land which thou gave unto our fathers.
Moreover concerning a stranger, that is not of thy people Israel, but cometh out of a far country for thy name's sake; (For they shall hear of thy great name, and of thy strong hand, and of thy stretched out arm;) when he shall come and pray toward this house; Hear thou in heaven thy dwelling place, and do according to all that the stranger calls to thee for: that all people of the earth may know thy name, to fear thee, as do thy people Israel; and that they may know that this house, which I have builded, is called by thy name.
If thy people go out to battle against their enemy, whithersoever thou shall send them, and shall pray unto the LORD toward the city which thou hast chosen, and toward the house that I have built for thy name: Then hear thou in heaven their prayer and their supplication, and maintain their cause. If they sin against thee, (for there is no man that sins not,) and thou be angry with them, and deliver them to the enemy, so that they carry them away captives unto the land of the enemy, far or near;
Yet if they shall bethink themselves in the land whither they were carried captives, and repent, and make supplication unto thee in the land of them that carried them captives, saying, We have sinned, and have done perversely, we have committed wickedness; And so return unto thee with all their heart, and with all their soul, in the land of their enemies, which led them away captive, and pray unto thee toward their land, which thou gavest unto their fathers, the city which thou hast chosen, and the house which I have built for thy name: Then hear thou their prayer and their supplication in heaven thy dwelling place, and maintain their cause, And forgive thy people that have sinned against thee, and all their transgressions wherein they have transgressed against thee, and give them compassion before them who carried them captive, that they may have compassion on them:
For they be thy people, and thine inheritance, which thou brought forth out of Egypt, from the midst of the furnace of iron: That thine eyes may be open unto the supplication of thy servant, and unto the supplication of thy people Israel, to hearken unto them in all that they call for unto thee. For thou didst separate them from among all the people of the earth, to be thine inheritance, as thou spake by the hand of Moses thy servant, when thou brought our fathers out of Egypt, O Lord GOD. (1Kings 8:23-53 (also 2 chronicles 6;14-42)
This prayer is answered directly. Fire comes down and consumes the sacrifice on the altar. And God himself says, "I have heard thy prayer, and have chosen this place to myself for an house of sacrifice... Now mine eyes shall be open, and mine ears attent unto the prayer that is made towards this place" (2Ch 7:12-15)