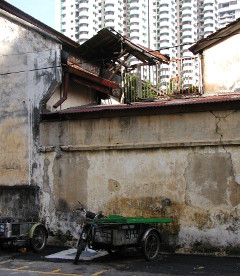 The Psalmist effusively praises the law. A modern libertarian would not agree. Many Christians feel that law is replaced by utter grace in Christ, and might rather tend to have a stance not far from libertarian. But why did the Psalmist love the law so much?
SAMECH. I hate vain thoughts: but thy law do I love. (Psalm 119:113)
The passage 'O how I love thy Law' came to my mind as I was reading this law;
When thou build a new house, then thou shall make a battlement for thy roof, that thou bring not blood upon thine house, if any man fall from thence. (Deuteronomy 22:8)
I know this law is important by experience. I have seen a young man miss his footing and slide on a roof almost to the edge. Anyone who has worked on a roof or installing roofing as I have done knows why during construction a scaffold with rails is used. If you see high fences on the bridges over a highway or river you know that this law of life is valued, even to preserve the life of those who would take their own life.
Even libertarians would agree that some laws are needed and that this is a wise law. They may not love it, but they see it is utilitarian. However I love this law as I have known one who would seek for appearance sake, for mere aesthetics, to negate the intent of the laws applicable where I live.
The law sets out a principle; that certain things are to be done so as to reduce life threatening situations. This law is clearly about safety. In fact this older law of Deuteronomy supersedes whole sets of laws in the modern world. As soon as safety is defined, such as heights and widths, they become a focus, rather than than the intent to prevent death.
Then the chapter in Deuteronomy smoothly proceeds to detailed laws about virginity in marriage and how to deal with fornication publicly. A libertarian would protest. A modern Christian might have swallowed so much of the ideology of the utterly Godless secular state, that they cannot see why this law is adjacent the law for Balustrades. Many Christians are fighting vainly on the front of anti-abortion, having left off fighting on the ground of virginity.
But remember that all agree that none should wish to bring "blood upon your house". Imagine how many diseases, some of which are deadly, would be avoided if the law was kept. What about the man?, a libertarian may cavil. But the law forbid any form of prostitution, thus if all women were subject, so were all men. All avenues for sexually transmitted diseases were closed by the Torah. All avenues for bitter jealously leading to conflict and possible murder were also closed. The point of that law is exactly the same as the one for balustrades, yet such is human rebellion that many obfuscate the harm done by promiscuity.
The rebellious, not only have danger – they have no peace. Those who love the Law of Yahweh Elohim have great peace.
I rejoice at thy word, as one that findeth great spoil. I hate and abhor lying: but thy law do I love. Seven times a day do I praise thee because of thy righteous judgments. Great peace have they which love thy law: and nothing shall offend them. (Psalm 119:162-165)
Many Christians, seeing their own liberty as a humanist liberty forget the implications of Paul's advice.
For all the law is fulfilled in one word, even in this; Thou shalt love thy neighbour as thyself. (Galatians 5:14)
Those who consult their own rebellious heart to learn to how to love their neighour will always miss the best outcomes. The Law of Yahweh Elohim tells us in detail how to love our neighbour as ourselves. It's a schoolmaster. (Gal 3:24-5). Its the essential syllabus. Its not written so we can select the bits we like to agree with and to ignore the parts we don't like to impose on ourselves. We don't love ourselves by rebelling from Yahweh Elohim's law. How do we think we can love others as ourselves, if we don't love ourselves enough to do the best we can do to live long in the land?
James points out that just as our Lord fulfilled the law, so we are asked to fulfil the Torah - in loving our neighbour.
If ye fulfil the royal law according to the scripture, Thou shalt love thy neighbour as thyself, ye do well: (James 2:8)