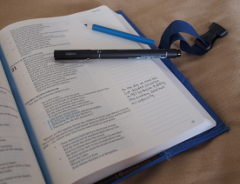 It is to our honour to dig deep and find out the truth of every matter that matters. The Bible asks us to find its truth, but this helps us in every area of our life – as truth is the only matter that matters.
It is the glory of God to conceal a thing: but the honour of kings is to search out a matter. (Proverbs 25:2)
There is no doubt that Solomon exemplified the search for truth he wrote of. Ecclesiastes cannot be bettered as an attempt to look into the things God has concealed in the matters observed under the sun.
So many today remain ignorant and rely on experts to inform them. However the Creator has set up the world in such way that the ignorant will end up eternally dead, only the seekers of truth will inherit eternal life. It is the honour of the lowliest person to follow the advice of the King, who is Christ (=Anointed = Priest-King), and seek out a matter,
Ask, and it shall be given you; seek, and ye shall find; knock, and it shall be opened unto you: For every one that asks receives; and he that seeks finds; and to him that knocks it shall be opened. (Matthew 7:7-8)
We are to seek, not for the sake of seeking endlessly, but to find the truth of a matter,
Then said Jesus to those Jews which believed on him, If ye continue in my word, then are ye my disciples indeed; And ye shall know the truth, and the truth shall make you free. (John 8:31-32)
Christ rebukes those who rush to judgement without considering the rights and depth of a matter.
If a man on the sabbath day receive circumcision, that the law of Moses should not be broken; are ye angry at me, because I have made a man every whit whole on the sabbath day? Judge not according to the appearance, but judge righteous judgment. (John 7:23-24)
The Apostle Paul echoes this call to investigate all matters to find truth.
Study to shew thyself approved unto God, a workman that needs not to be ashamed, rightly dividing the word of truth. (2Timothy 2:15)
The greatest defence of Christ ever given was by Nicodemus, who pointed out that all logical thoughtful educated righteous people seek and hear all the evidence of a matter, before they make a judgement.
Nicodemus said unto them (the Pharisees), (he that came to Jesus by night, being one of them,) Does our law judge any man, before it hear him, and know what he does? (John 7:50-51)
We know the Pharisees thought themselves well educated experts as they called Y'shua (Jesus) 'unlearned' (John 7:16). But many of those supposedly well educated experts were unable to investigate. Nicodemus, who came and asked questions, studied the matter and called on others to hear all the evidence. Most of the supposedly educated leaders did not seek out the matter.
Paul who was well educated but counted it as dung (Phil 3:8), points out that the well educated elites were so blinded by their own self importance, they failed to understand what they read.
For they that dwell at Jerusalem, and their rulers, because they knew him not, nor yet the voices of the prophets which are read every sabbath day, they have fulfilled them in condemning him. (Acts 13:27)
Paul could say from his own bitter experience that,
If any man think that he knows any thing, he knows nothing yet as he ought to know. (1Cor 8:2)
It is the honour of all to seek out a matter. The Apostles were seekers of truth as John Chapter One reveals. They sought to listen to John the Baptist, then on the basis of John's eye witness went to listen to the Son of God themselves.
In that hour Jesus rejoiced in spirit, and said, I thank thee, O Father, Lord of heaven and earth, that thou hast hid these things from the wise and prudent, and hast revealed them unto babes: even so, Father; for so it seemed good in thy sight. (Luke 10:21)
The disciples were called 'babes', but because they sought the words of truth and eternal life (John 6:68), Christ promised them that they will be kings that sit on 12 thrones judging the tribes of Israel (Mat 19:28).
It is the honour of kings to search out a matter. In the last message of Y'shua Anointed (Jesus Christ) to his servants in Revelation he repeated many times, 'he that has an ear', by which he meant those who are teachable and willing to find truth by hearing it. The matters of life need to be searched out. It is the glory of Yahweh Elohim to hide the matters of life. Our Lord is, by analogy, hidden by a door.
Behold, I stand at the door, and knock: if any man hear my voice, and open the door, I will come in to him, and will sup with him, and he with me. (Revelation 3:20)
When we seek truth like kings striving to be just, as the disciples did, then just as the disciples were promised to be made rulers, we are offered a share the rulership of the Great King.
To him that overcometh will I grant to sit with me in my throne, even as I also overcame, and am set down with my Father in his throne. (Revelation 3:21)