Elijah-Eliyahu
20th August 2014, hej
1)

Commetary on Elijah-Eliyahu
There are only 2 men taken from the earth: Enoch and Elijah. It is said specifically of Enoch, and it only said of Enoch, that he 'walked with God', then a second time "Enoch walked with God: and he was not; for God took him." (Genesis 5:24).
In the same way God took Enoch, he took Elijah. The right way to see Elijah is how we are shown in the Bible. He is mentioned 30 times in the New Testament. One of the most powerful references to him is in James' letter,
Elias was a man subject to like passions as we are, and he prayed earnestly that it might not rain: and it rained not on the earth by the space of three years and six months. And he prayed again, and the heaven gave rain, and the earth brought forth her fruit. (James 5:17-18)
Paul makes a revealing comment regarding Elijah's zeal.
God has not cast away his people which he foreknew. Wot ye not what the scripture saith of Elias? how he makes intercession to God against Israel, saying, Lord, they have killed thy prophets, and digged down thine altars; and I am left alone, and they seek my life. But what saith the answer of God unto him? I have reserved to myself seven thousand men, who have not bowed the knee to the image of Baal. (Rom 11:2-4)
The mention of 7,000 may be small comfort. They hadn't shown themselves, for obvious reasons. They hadn't been called to feed Elijah for the obvious reason of revealing themselves. Elijah however did show himself as valiant. The 7,000 were reserved and preserved, but Elijah was given life by special miracle.
Our lord Y'shua said of Elijah,
"Verily I say unto you, No prophet is accepted in his own country. But I tell you of a truth, many widows were in Israel in the days of Elias, when the heaven was shut up three years and six months, when great famine was throughout all the land; But unto none of them was Elias sent, save unto Sarepta, a city of Sidon, unto a woman that was a widow." (Luke 4:24-26)
The 7,000 & why the Gentile widow?
Many ask why the Gentile widow? The answer is that looking at the 7,000 reserved who had refrained from serving Baal and looking at the hearts of all people alive and nearby at that time, the God of Israel knew his plan was best served with this Gentile widow who knew by reputation the God of Israel, just as Rahab had.
When Elijah looked about him he may be forgiven for not noticing 7,000 silent people among about a million others. It is wisdom that as Jezebel seized power, the righteous went into hiding,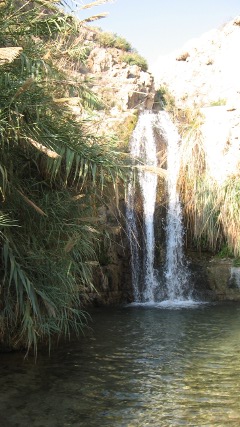 When the wicked rise, men hide themselves: but when they perish, the righteous increase. (Proverbs 28:28)
There is the sense that nobody was saying anything. In fact what could 7,000 have done among so many, especially 7,000 who were silent for self preservation. Obadiah the Governor of Ahab had his hands full hiding 100 prophets. Elijah must have looked about him in his zeal and noticed the deafening silence. Then out of nowhere Elijah emerges. He is said to be from Gilead, which may mean he was from the tribe of Manasseh. It seems he wasn't a priest, though the description of his long hair and leather girdle might indicate a Nazarite vow (2 Kings 1:8). He is not introduced, he just fronts up to Ahab.
Elijah the Tishbite, who was of the inhabitants of Gilead, said unto Ahab, "As the LORD God of Israel liveth, before whom I stand, there shall not be dew nor rain these years, but according to my word." (1Kings 17:1)
Much is made of the fact that Elijah is not introduced and also that Elijah speaks of "my word." Did Elijah pray for and seek this drought? Was this Elijah's will? James indicates that indeed it was Elijah's will and fervent zeal to send drought on his people for their idolatry. It was Elijah's fervent prayer. It was Yahweh's will to grant his request. Now why?
Who controls fertility?
The particular form of idolatry Israel had succumbed to under the limp folding of Ahab the king of Israel to Jezebel his wife involved service for fertility. Rich harvests and plentiful cattle, the fertility of the land in Israel was utterly dependent on rain. Therefore life and the health of all children born was dependent on rain. In Israel the rain follows cycles controlled by Yahweh the God of Israel even today. He declared before they entered the land, that,
"the land, whither ye go to possess it, is a land of hills and valleys, and drinks water of the rain of heaven: A land which the LORD thy God careth for: the eyes of the LORD thy God are always upon it, from the beginning of the year even unto the end of the year. And it shall come to pass, if ye shall hearken diligently unto my commandments which I command you this day, to love the LORD your God, and to serve him with all your heart and with all your soul, That I will give you the rain of your land in his due season, the first rain and the latter rain, that thou mayest gather in thy corn, and thy wine, and thine oil. And I will send grass in thy fields for thy cattle, that thou mayest eat and be full. Take heed to yourselves, that your heart be not deceived, and ye turn aside, and serve other gods, and worship them; (Deuteronomy 11:11-16).
Elijah must have looked about him saw nothing but pagan idol worship of a fertility cult, with all the leading figures of the day caught up in it, whether by consensus, silence or the righteous hiding themselves. In his zeal for Yahweh's word he wondered why there was still rain. Knowing Deuteronomy it seems, (as is corroborated by James), that Elijah prayed fervently and called on the Name of Yahweh, that He would do as He had written, so his people would learn that he was to be feared as the only source of fertility.
Some see this as very tough, and then propose that Elijah was taught some lessons, but let us look at what happens and we may see Elijah rightly, especially if any criticism may be of non-existent tiny 'specks' in Elijah's eyes by those who have 'timber beams'. There is no point where Elijah does not implicitly obey God without complaint. Let us examine the lessons, because they are examples for us (1Cor. 10:11).
Fed by Ravens at Cherith
Elijah is told to go to the brook Cherith. The word Cherith comes from the Hebrew word to 'cut a covenant' or circumcise. In effect Elijah was told to hide himself by the brook of the covenant. In doing so he was cut off from his people, that majority who had forsaken the covenant of their God.
Yahweh said that he would send ravens that are unclean under the Torah to feed Elijah. Elijah trusts that this unusual event of normally selfish scavenger birds feeding him would occur and makes no protest. There is no record Elijah asked for clean birds. The records says he went and did according to Yahweh's word. The implication is that he went immediately, in obedience, in faith and utter confidence.
The word for Raven comes from its dusky hue, and speaks of the dusk of sunset. Yet they bring bread and flesh in the morning and evening. The world 'Oreb' for Raven also became the world for 'to stand surety for' or 'to give security'. Some commentators have pointed out that the Septuagint translation has similarities to the account of the feeding of Israel in the wilderness. The curiosity is why God didn't feed Elijah as Israel in the wilderness, rather he used Ravens, unclean birds. Indeed from Elijah's acceptance we may all learn a lesson, to not call 'unclean' what Yahweh has cleansed. When the water dried up he was to be fed by a Gentile woman, and, one who had led a less than sinless life (1 kings 17:18). The lesson was not so much for Elijah, but one for everyone who has lived since and heard of it. God is no respecter of persons, and as he wills he calls certain Gentiles (Acts 10:34).
The Gentile Woman of Zidon
You have to give credit to Elijah in terms of his trust. His water runs out, which he must have seen coming, and he waits patiently. His faith is rewarded, and he is given a way out. But he is told to go to Zidon! Elijah had just run from Jezebel, daughter of Ethbaal king of the Zidonians! Zarephath must have been a centre of the idolatry he abhorred. The wisdom of Yahweh is that he knew Jezebel would not look there (see in 1 kings 18 how all kingdoms are searched). This woman as a widow with a dependant son would have been one of the first victims of the famine, as widows in the best of times had a hard lot, and her son not yet old enough to be a 'bread winner'. By providence Elijah finds her by the gate. She immediately recognises Elijah as a Hebrew whose God, was a living God and who is responsible for the famine.
And she said, "As the LORD thy God lives, I have not a cake, but an handful of meal in a barrel, and a little oil in a cruse: and, behold, I am gathering two sticks, that I may go in and dress it for me and my son, that we may eat it, and die." (1Kings 17:12)
We know she knows Elijah's God is powerful as she obeys Elijah,
For thus saith the LORD God of Israel, The barrel of meal shall not waste, neither shall the cruse of oil fail, until the day that the LORD sends rain upon the earth. And she went and did according to the saying of Elijah: and she, and he, and her house, did eat many days. (1Kings 17:14-15)
With the testimony of the faith required in the miracles of the future, this miracle seems based on the confidence of all involved that indeed their stores would keep going.
Elijah's call
After 3 years of drought when the scarcity was affecting all, even to the king, Elijah was told to show himself to Ahab who was searching for water. He tells Ahab to gather the people and the prophets of Baal to Mt Carmel.
Mt Carmel means 'fruitful'. It was a holy place that pre-dates the nation of Israel. It seems likely it was a centre of worship of the Zidonian god.
And Elijah came unto all the people, and said, How long halt ye between two opinions? if the LORD be God, follow him: but if Baal, then follow him. And the people answered him not a word. (1Kings 18:21)
...And call ye on the name of your gods, and I will call on the name of the LORD: and the God that answereth by fire, let him be God. And all the people answered and said, It is well spoken. (1Kings 18:24)
Though a place of the worship of Baal, it had at one time been a place of worship of Yahweh, showing how easily the slide into false worship had been.
Elijah said unto all the people, Come near unto me. And all the people came near unto him. And he repaired the altar of the LORD that was broken down. (1Ki 18:30)
The next words are particularly important. Notice that Elijah shows he is an obedient servant, and that his intent is to call on Yahweh to turn his people's hearts back to him.
And it came to pass at the time of the offering of the evening sacrifice, that Elijah the prophet came near, and said, LORD God of Abraham, Isaac, and of Israel, let it be known this day that thou art God in Israel, and that I am thy servant, and that I have done all these things at thy word. Hear me, O LORD, hear me, that this people may know that thou art the LORD God, and that you have turned their heart back again. (1Kings 18:36-37)
Elijah takes no credit. It is only after the people are dramatically convinced and their hearts turned to Yahweh Elohim, that Elijah prays for rain. When the rains come the sky becomes black with clouds.
But Jezebel is still powerful and clearly has the power to take Elijah's life, so he flees to Beersheva- then thinking that not far enough, he flees a days journey to the wilderness. There is a reason he did not linger in Judah. Jehoshaphat the king of Judah, though a servant of Yahweh, had an alliance with Ahab via his son Jehoram's marriage to Ahab and Jezebel's daughter which was to cause great grief in Judah (2 Chronicles 21). In the wilderness, where there was no help, once again Elijah is helped, and, by miracle, he is fed.
The lesson of the Still Small voice
Elijah was sent to Mt Horeb, which is Sinai. Horeb means 'desolate' and is a dry mountain in the wilderness, in contrast to the fruitful Carmel. Elijah had been zealous for the covenant made at Horeb. It is a high honour that he is given sustenance by an angel to travel 40 days and nights reach there.
The 40 days and 40 nights relate to Moses who was in the mount forty days and nights on Sinai. There are some parallels with Moses and some differences. When told of the idolatry Moses pleads and intercedes on part of the people, yet Elijah did not. Elijah is not a leader, Moses is. When Moses himself saw the events his anger waxed hot and he breaks the stones and like Elijah calls, "Who is On Yahweh's side?" and asks those to come forth to slay their brethren causing 3,000 to die. Elijah at Carmel in effect, like Moses, had asked who was on Yahweh's side. They then slay the prophets of baal. Moses as he was a leader was able to execute judgement, yet Elijah, not being of any standing whatsoever, is forced to flee.
Elijah comes to a cave on Sinai-Horeb and is told to leave the cave and stand on the mount before Yahweh. There Elijah is shown the great power of Yahweh Elohim as He passes by. Elijah witnesses to us that though Yahweh clearly caused the wind, earthquake and fire, he is was not 'in' them. We can note that Elijah shelters in the cave from these great manifestations of power, to emerge when he hears the still small voice. Moses likewise was hidden there on the mountain when he was shown the Glory of Yahweh. Moses hears words.
And the LORD said, Behold, there is a place by me, and thou shalt stand upon a rock: And it shall come to pass, while my glory passes by, that I will put thee in a clift of the rock, and will cover thee with my hand while I pass by: (Exo 33:21-2)
And be ready in the morning, and come up in the morning unto mount Sinai, and present thyself there to me in the top of the mount. (Exo 34:2)
Compare:
He said (to Elijah), "Go forth, and stand upon the mount before the LORD."
And, behold, the LORD passed by, and a great and strong wind rent the mountains, and brake in pieces the rocks before the LORD; but the LORD was not in the wind...(1Kings 19:11)
It is Elijah who witnesses these events who leaves the record for us. He tells us that God was not 'in' the great power. He doesn't say God was in the still small voice, but that is the implication as he comes out to hear.
Now there is something rather wonderful: Moses was a meek man given power, whereas Elijah was a zealous man without power. Elijah had requested that God take his life rather than Jezebel, as he was a 'dead' man unless Yahweh saved him. Yahweh Elohim knew his heart and so fed him and took him to Horeb that he revived. Once revived he put his very real problem before Yahweh Elohim,
"

I have been very jealous for the LORD God of hosts: for

the children of Israel have forsaken thy covenant

, thrown down thine altars, and slain thy prophets with the sword; and I, even I only, am left; and

they seek my life

, to take it away." (1Kings 19:10)
Elijah is then in response shown such a great power few would witness. It is a great complement to Elijah. He put all that was in his heart and confessed a dire situation. He didn't say his own life was in danger, he said he was the only one who was speaking up for the covenant, and confesses he was without power. He is then shown truly great power!
After re-iterating the situation, we see how a human request, a prayer is answered! Note in the answer how anointing is about power,
And the LORD said unto him, Go, return on thy way to the wilderness of Damascus: and when thou come, anoint

Hazael to be king over Syria: And Jehu the son of Nimshi shalt thou

anoint

to be king over Israel: and Elisha the son of Shaphat of Abelmeholah shalt thou

anoint

to be prophet in thy room. And it shall come to pass, that him that escapes the sword of Hazael shall Jehu slay: and him that escapes from the sword of Jehu shall Elisha slay. Yet I have left me seven thousand in Israel, all the knees which have not bowed unto Baal, and every mouth which hath not kissed him. (1Kings 19:15-18)
There is much said about the still small voice, that the progress of the word of God goes softly and quietly, but that's not what the verse really says. It may be that Christianity has progressed as a quiet voice, and is prefigured here, but Elijah's struggle was against an evil and very powerful woman who had many powerful allies. Look at what God's answer is: Anoint these people into political power so that these enemies are slain! Was Elisha a prophet of a still small voice? What does it say? Doesn't it say he shall slay those who Jehu doesn't kill?
What actually happened was that the still quiet voice of Yahweh Elohim came to Elijah, who without argument or further word, leaves with utter obedience to do as he was directed. Notice how Elijah's prayer is answered. He is given Elisha as a prophet in waiting, just as Joshua was given to Moses. He is given a way forward and new work to do, and he goes forth in renewed strength from Horeb to do it. He begins by anointing Elisha. In fact Elijah is taken and Elisha anoints Hazael, then Elisha delegates a son of the prophets to anoint Jehu, but it is all at the instruction of Elijah who was obeying the instruction of Yahweh implicitly. Jehu said,
Know now that there shall fall unto the earth nothing of the word of the LORD, which the LORD spake concerning the house of Ahab: for the LORD hath done that which he spake by his servant Elijah. (2Kings 10:10)
The work remaining
Elijah is taken having done all he was asked to, having been given a dedicated deputy. The great affection and dedication Elisha had to Elijah is evidenced in that he would not leave him. To the very end when Elijah is taken they talked together, as kindred souls. Elisha rent his clothes so great was his emotion at the loss.
Elijah was taken, as none except Enoch had been. Moses body was taken, but he had died. Whether Elijah rested in death after being taken in the fiery chariot or not is idle speculation. We are told,
Remember ye the law of Moses my servant, which I commanded unto him in Horeb for all Israel, with the statutes and judgements. Behold, I will send you Elijah the prophet before the coming of the great and dreadful day of the LORD: And he shall turn the heart of the fathers to the children, and the heart of the children to their fathers, lest I come and smite the earth with a curse. (Malachi 4:4-6)
This indicates how great Elijah's work really was. His single-minded zeal turned the hearts of Israel back to their covenant. There was no hope for the silent 7,000 except for Elijah's work of turning the majority back to the covenant, and their slaying of the idolatrous prophets.
When John the Baptist comes to turn the hearts of the people of his day, in preparation for Y'shua (Jesus) it was said,
"

He shall go before him in the spirit and power of Elias, to turn the hearts of the fathers to the children, and the disobedient to the wisdom of the just; to make ready a people prepared for the Lord."

(Luke 1:17)
When Y'shua was to be strengthened Elijah and Moses were sent, as was witnessed by the three disciples. Mark records Elijah's name first (Mark 9:4), whereas Matthew and Luke put Moses first.
And they asked him (John the Baptist), What then? Art thou Elijah?
And he saith, "I am not."
"Art thou that prophet?"
And he answered, "No."
Then said they unto him, "Who art thou? that we may give an answer to them that sent us. What sayest thou of thyself?"
He said, "I am the voice of one crying in the wilderness, Make straight the way of the Lord, as said the prophet Esaias." (John 1:21-23)
And so as our lord said, "Elijah verily comes first, and restores all things;" (Mark 9:12)
Even so may he come soon.
As Elijah's prayer of was powerful, for more on prayer Inspiring Prayers