Ruth
26th February 2010, mgh
This Article: (3 Pages)
3. Ruth: The blessing of ...

Abraham (Galatians 3: 13-14)
3)

Ruth: The blessing of Abraham (Galatians 3: 13-14)

Ruth in marriage to Boaz then finds a new home and a new family. She had a love for the God of the Israelites and had found the way to salvation through the promises to Abraham. What is even more remarkable is that two Gentile women, Ruth and her new mother-in-law Rahab, were in the direct line of the future Messiah and King of Jews and Gentiles. Today Gentiles, like Rahab and Ruth, can also become associated with those promises to Abraham through belief, faith and baptism. The letter to the Galatians assures us of this hope.
Christ hath redeemed us from the curse of the law, being made a curse for us: for it is written, Cursed is every one that hangeth on a tree: That the blessing of Abraham might come on the Gentiles through Jesus Christ; that we might receive the promise of the Spirit through faith. ..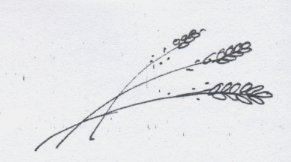 Wherefore the law was our schoolmaster to bring us unto Christ, that we might be justified by faith.
But after that faith is come, we are no longer under a schoolmaster. For ye are all the children of God by faith in Christ Jesus. For as many of you as have been baptized into Christ have put on Christ.
There is neither Jew nor Greek, there is neither bond nor free, there is neither male nor female: for ye are all one in Christ Jesus.
And if you are Christ's, then you are Abraham's seed, and heirs according to the promise, (Galatians 3 : 13-14, 24-29)
You might like Impossibility & God

Or The Redeemer in the book fo Ruth